The Hazaras originally belong to the central mountainous regions of the present-day Afghanistan known as Hazarajat or Hazaristan. The Hazaras lived freely in their homeland for centuries until the British Empire decided to create Afghanistan as a buffer state in order to save India, also referred to as the 'Golden Bird' colony, from Russia in the late 19th century. The British summoned Abdur Rahman Khan, an exile in Bukhara and placed him on the throne of Kabul with the condition he remain loyal to the British Raj giving full control over Kabul's foreign policy; and that he would extend his power to all areas of Afghanistan denying Russia direct access to India. This was all part of what is known as 'The Great Game' — disputes between Britain and Russia over certain territories in Afghanistan and Central Asia.
The British Empire provided huge financial support to the new Amir of Kabul, Abdur Rahman Khan, and large supplies of modern weapons and ammunition, detailed in almost all the books like 'Afghanistan Dar Masir-e Tarikh,' 'Afghanistan Dar Punj Qarn-e Akhir' on the history of Afghanistan, including 'Taj Al-Tawarikh' attributed to the Amir himself. After assuming power in 1880, he first started military operations against the Hazaras of Sheikh Ali, and after displacing them from their lands, he turned his attention to the Hazarajat where he faced a lot of resistance from the Hazara resistance fighters. After repeated defeats, he finally declared the Hazaras 'infidels' in August 1892 through a Fatwa (Islamic decree) of the Sunni Mullahs (clerics), authorizing their summary mass killings, allowing their women and children to be made slaves, and distributed their fertile lands to the 'Jihadists' as war bounty.
Following the Fatwa, in September 1892, the forces of the Amir of Kabul attacked the Hazaras with 50,000 regular army and 120,000 Sunni jihadi fighters from all directions. The Hazaras, mostly civilians, were not strong enough to face such a large army and were defeated. There was systematic genocide of the Hazaras; women along with young boys raped; they were made slaves, and then sold not only to Afghanistan as well as to the neighboring countries. A number of Hazaras fled and migrated to neighboring countries like British India, Iran, and Central Asia; the details of which are given in another article of the author titled: Hazara Genocide in Afghanistan 1892 – 1901 (1).
A significant population of the exiled Hazara refugees settled in British Balochistan, especially in Quetta and a small number reached Parachinar in Khyber Pakhtunkhwa province and the northern areas of Gilgit-Baltistan. While living in their new homeland for a century, the Hazaras contributed to its development, progress, and peace in every possible way. In July 1977, the military dictator in Pakistan, General Zia-ul Haq, on one hand imposed martial law by toppling the elected government of the then prime minister Zulfiqar Ali Bhutto, and on the other hand started nurturing the Wahabi ideology and promised to implement Shariah law in Pakistan which he called 'Nizam-e-Mustafa.' This ideology grew stronger with each passing day after the pro-Soviet revolution in neighboring Afghanistan and the counter-revolutionary movement in Pakistan with the support of Western powers.
Moving forward, General Zia created a long chain of Wahabi-leaning religious madrassas across the country, especially in the provinces of Khyber Pakhtunkhwa and Balochistan to meet the shortage of foot soldiers in the Afghan Jihad, where along with the cultivation of the jihadist mindset, mandatory military training was also carried out. As a result, an army of staunch Wahabi ideology was soon formed, who despised all other sects except their own, especially the Shia sect, and considered them worthy of killing. Thus, an endless series of bloodshed was set into action by these Wahabi armed groups across Pakistan. The Hazara nation was undoubtedly the most affected as an outcome of such a scenario.
The first terrorist attack on the Hazaras living in Pakistan took place on October 6, 1999, in which the then Provincial Minister for Higher Education, Sardar Nisar Ali Khan Hazara was targeted. Although, he was injured, his driver Safdar Ali was killed, and his bodyguard Manzoor Hussain was severely wounded. But the horrific genocide of the Hazaras began with the terrorist attack on Hazara police cadets in Wali-jet area of Sariab Road in Quetta on June 6, 2003, and continue to date. It must be remembered that the former Chief Justice of the Supreme Court of Pakistan, Justice Saqib Nisar himself, has termed these killings as genocide (2). According to the February 2018 report of the National Commission for Human Rights of Pakistan, Understanding the Agonies of the Ethnic Hazaras, more than 2,000 Hazaras have been killed and more than 4,000 have been injured in these terrorist attacks. Of the Hazaras leaving Pakistan, nearly 500 drowned while migrating to Australia and thousands more have been compelled to migrate (3).
Most of the migration has been to Europe, Australia, and New Zealand etc. Although, there is no authentic data available about the exact number of Pakistani Hazara refugees, the Chairperson of the Human Rights Commission of Pakistan Ms. Zahra Yousuf in October 2014 estimated the number of Shia (Hazara) refugees from Balochistan with other minorities, Hindus, Zikris, and settlers, to be 300,000 (4). The Hazaras make the overwhelming majority.
This process of migration continues more or less till date. The main reason of the phenomenon is that despite repeated assurances from the highest military and political leadership, the genocide of Pakistani Hazaras is still going on. Following are the details of some major terrorist attacks in which 10 or more Hazaras were killed:
| | | |
| --- | --- | --- |
| Date | Location | Murdered |
| 06 June 2003 | Attack on Police Cadets in Wali-jet Sariab Road, Quetta | 12 |
| 04 August 2003 | Suicide attack on the Hazara Mosque 'Kalan' on Prince Road, Quetta | 47 |
| 02 March 2004 | Attack on Muharram (Ashura) procession on Liaqat Road, Quetta | 42 |
| 03 September 2010 | Attack on Quds Rally at Mezan Chowk, Quetta | 73 |
| 30 July 2011 | Attack on passenger van on Spinny Road, Quetta | 11 |
| 31 August 2011 | Attack on Hazara Eid-gah on Gulistan Road, Quetta | 12 |
| 20 September 2011 | Attack on passenger bus on Mastung-Quetta national highway, Quetta | 29 |
| 28 June 2012 | Attack on Hazara vegetable vendors in Akhtar Abad, western bypass, Quetta | 14 |
| 10 January 2013 | Suicide and bomb attack on snooker club on Alamdar Road, Quetta | 106 |
| 16 February 2013 | Water tanker suicide attack on Kirani Road Hazara Town, Quetta | 110 |
| 29 June 2013 | Suicide attack on Balkhi Chowk Hazara Town, Quetta | 33 |
| 21 January 2014 | Suicide attack on Pilgrims' bus on Taftan national highway in Daringad, Mastung | 25 |
| 01 January 2021 | Beheading of Hazara coalminers in Mach, Bolan | 10 |
As far as the nature of these terrorist attacks are concerned, 98% of these have taken place within the boundaries of Quetta, the capital city of the restive Balochistan province. Of more than 2000 Hazara victims, around 100 were targeted outside Quetta, while the rest were attacked within the boundaries of this small city. The attacks within the city were mostly carried out in and around the busiest commercial center of Quetta or the Hazara neighborhoods in the east of the city. There are only three roads connecting the Hazara neighborhood of Hazara Town to the city, namely Spinny Road, Joint Road and Arbab Karam Khan Road, and the people were targeted on these roads mostly during broad daylight.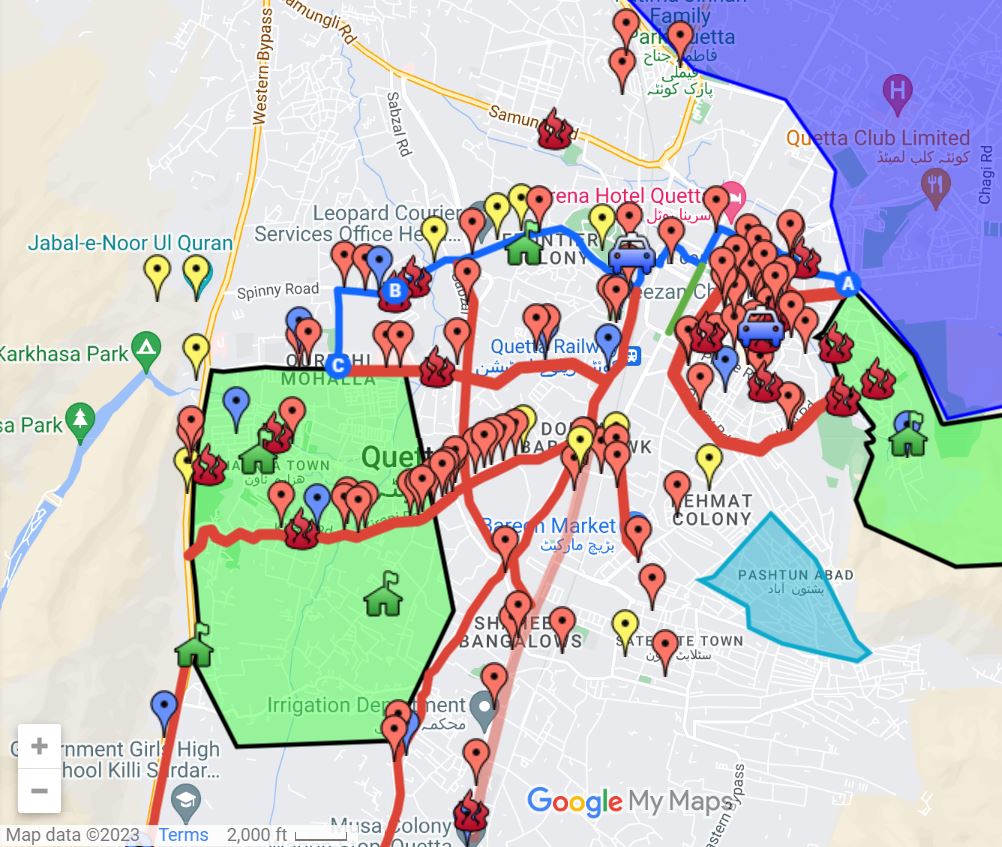 Hazara Genocide in Pakistan by HOPE (accessed on Jan 10, 2023).
It should be remembered that the urban areas where there have been more terrorist attacks on the Hazaras have at least eight police stations including Balochistan Police Headquarter, Balochistan Constabulary Headquarter, Frontier Corps (FC) Headquarter, and a large number of security personnel, on round the clock duty. At the city level, they number in the thousands as the total number of security personnel in the entire province, including the FC, Police and Levies, is 1130,00 (5).
It should also be remembered that the former Federal Interior Minister Chaudhry Nisar Ali Khan called Quetta the most secure city in Pakistan where there is a security check post every few hundred meters (6). It is a matter of surprise that the two bloodiest city circles (main city center & three roads connecting the Hazara enclave of Hazara Town) consist of only seven major roads and 50 lanes with a total area of a few square kilometers barely making 10% of Quetta. In the last 23 years (1999-2022), a large number of innocent Hazara including men, women and children have been killed there only on the basis of their ethnic identities and religious beliefs. Although banned Wahabi terrorist outfits such as Sipah-e Sahaba (SSP) and Lashkar-eJhangvi (LeJ) have claimed the responsibilities of these attacks, not a single terrorist has been brought to justice, a cause for serious concern rather than surprise.
Given the plethora of security agencies, and the fact that Quetta is also home to Pakistan Army's major Command and Staff College housing the 'Shola Division' of the Pakistan Army, a very simple question comes to mind: how can the well trained security personnel including FC and Counter Terrorist Force (CTF) equipped with modern weapons —including armored vehicles, helicopters, and other advanced weaponry— instead ghettoize and confine nearly 500,000 Hazaras to two 10-mile areas of the city, depriving them of the basic rights of education, social integrations and employments and fail to stop a handful of terrorists from committing their genocide?
SUGGESTED READING:
Following two reports by Human Rights Watch (HRW) and National Commission for Human Rights (NCHR) Pakistan details the ongoing genocide of Hazaras in Pakistan
SOURCES: