After 20 years of struggle for democracy and women's rights in Afghanistan, the country turned to a black death hole — hundreds of thousands of Afghans trying to escape the country after the Taliban returned to power on August 15, 2021.
Though there is no exact data available to indicate how many Afghan refugees, legally and illegally, have entered Pakistan between August and October, hundreds of Afghans enter Pakistan daily, legally and illegally, to escape death.
Afghanistan has been a "battleground" for more than four decades and was recognized by the United Nations as "the most dangerous place" on planet earth for women, with increased social and domestic inequality and injustice for girls and women. During the past four decades of war in Afghanistan, women and children remained the primary victims of war in Afghanistan. However, the 20 years of democracy in Afghanistan helped women of Afghanistan to gain some of their fundamental rights, and actively participate in social, political, and economic fields. But with the fall of Kabul on 15th August, women once again became the ultimate victims of war and were left with haunting experiences.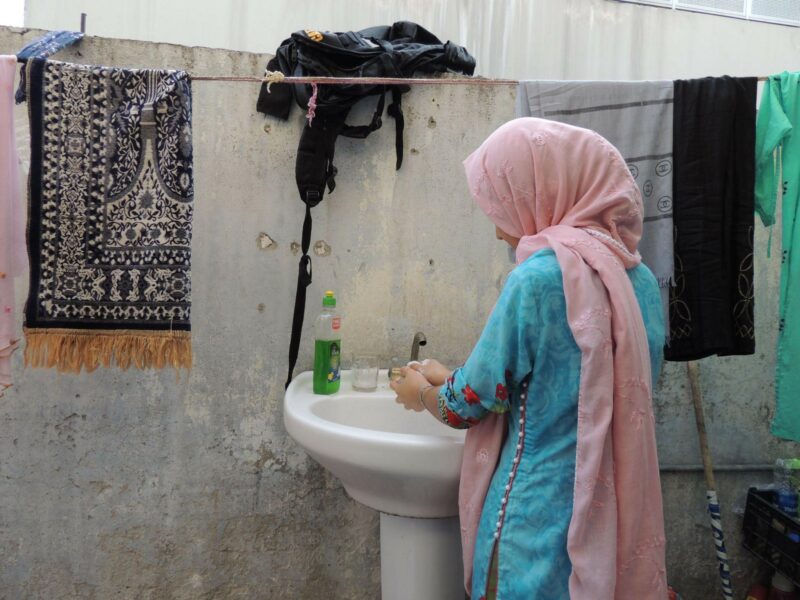 Zohra washes the glasses at her home (Oct 2021, Islamabad)

Zohra (her name has been changed to protect her identity), a 28-year-old Hazara girl, escaped her country to Pakistan after the fall of Kabul. Zohra, with all her dreams faded away by the return of the Taliban, was forced to leave her home and country for an unknown future.
"When we decided to escape Afghanistan, I remember clearly, I was not able to stop crying. I cried for two days all the way from Afghanistan until later we reached Quetta, Pakistan. I was out of tears."
Like many other refugees, Zohra and her family had to escape the country as soon as possible but the borders to Pakistan and Iran were closed. These two countries, with the largest number of Afghan refugees, are less costly for Afghans to seek refuge in. Zohra said, "we had no other choice but to enter the country (Pakistan) illegally like many other refugees. It was my first experience as such and it was horrible."
Some refugees, who do not have the Pakistani visa and proper documentation, enter Pakistan through the Kandahar-Quetta route illegally. Zohra has also come from the Spin-Boldak border, where smugglers make entry to Pakistan possible.
After staying some days in Quetta, Zohra and her family decided to come to the capital city, Islamabad to approach the UNHCR for help. Zohra is the breadwinner of her family—a family of six, with 12 and 16 years old brothers and a 16-year-old sister. After graduating from Kabul University, she wanted to pursue her career in politics and have a decent job to support her family.
"I graduated from the International Relations department in May 2021, almost two months before the fall of Kabul. I entered Afghanistan with an enormous amount of hope and plans for my future. But, unfortunately, the Taliban ruined everything; they took away my home, my future, and shattered all my hopes. They stole my country," She told me in a shaky voice.
Zohra has her master's degree from China Foreign Affairs University. Holding her master's degree from China, and now she is working as a dishwasher in a restaurant in Islamabad.
Like the previous time, the Taliban reigned over the country, they made women disappear from the public eye by taking away their social, educational, and political rights. Women aren't allowed to go to work, travel alone without a male guardian, or wear anything else but a Burqa. The violation of strict rules on women's behavior and lifestyle would lead to severe punishment or the death penalty by the Taliban. The Taliban is even more violent than the last time they ruled the country.
Right to education
The Taliban has snatched the Afghan girls' right to education and ordered them to stay at their homes until they make the environment ready for them, which does not seem to ever happen. Recent reports show that more than 2.2 million Afghan girls were unable to attend school this year.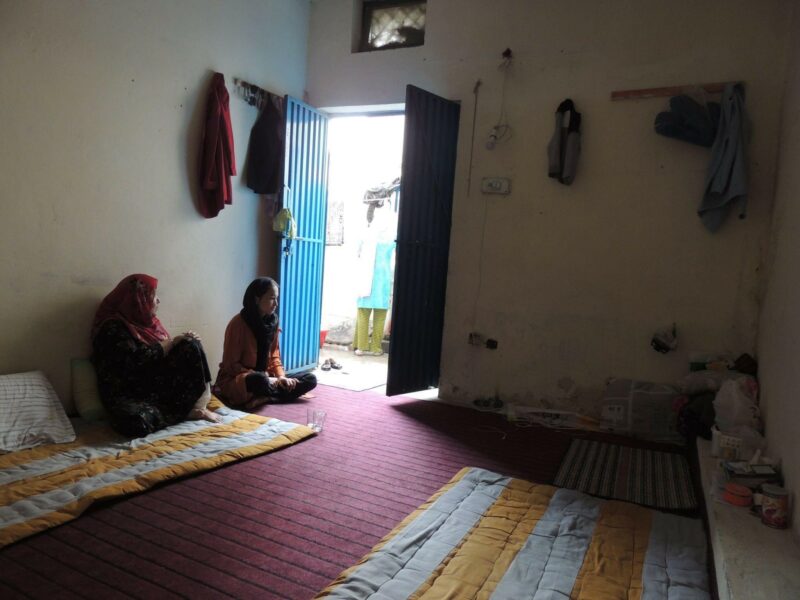 Zohra's mother (left) and her cousin (right) share her story; experience, fears, and hopes (Oct 2021, Islamabad)
"I received my primary, secondary, and high school education in a very challenging situation. We had to go through many problems at home—financial among the main one. My family could hardly afford our education expenses. My parents were cutting money from our food so that my siblings and I could go to school. But what now? Under the rule of the Taliban, I cannot even go to work. I cannot utilize my education to achieve what I want. I am thinking about how I can pay back my family for their sacrifices what they have done for our education," Zohra insisted.
Two months ago, the Taliban announced the reopening of schools and universities, but only boys were allowed to return back to school. And the girls only were allowed to continue their primary education but not secondary. They also forced universities to apply policies of gender segregation to be able to reopen. Even after abiding by these rules and policies, universities have remained closed.
"I was working so hard to fulfill my dreams and find a way to pursue my higher education through a full scholarship. Despite our poor financial situation in Afghanistan, I kept searching for a scholarship. After months of struggle, bearing hunger, and barriers because of my gender, I was able to get a full scholarship in China. But it seems that it doesn't matter anymore," She said with deep grief.
Some of the leaders reacted on social media regarding the ban on girls from schools and their rights to education. Imran Khan, Prime Minister of Pakistan, told BBC News, "The idea that women should not be educated is just not Islamic. It has nothing to do with religion." But these reactions were no more than just some posts on social media. They had no effect on the Taliban's policies and nothing got changed.
Zohra is not the only girl facing this situation and bearing enormous amounts of stress that comes with the collapse of Kabul and the never-ending war in Afghanistan. Zohra is among thousands of girls and women not just in Pakistan but inside Afghanistan, Iran, India, and other countries around the world whose dreams for a bright future have been taken away. The war has crushed all hopes and aspirations of the young, brave, and persistent girls and women of Afghanistan.
Safdar Ali, restaurant owner, makes fries, while Zohra washes dishes at her workplace (Oct 2021, Islamabad)
I asked Zohra if I could visit her family and her workplace? She agreed. From her house, the restaurant where she works is about 15 minutes walk. We met Safdar Ali, 27, the manager of the restaurant. After the introduction, Ali said, " We (Ali and his wife) were inspired when we first met Zohra, a young patient woman desperately looking for a job. When I interviewed her for the job in my restaurant, I was moved by her life story and felt sorry at the same time. She has many problems, still, she is hopeful for her future and fights to make a decent living for her family; it is inspiring."
I inquired Zohra about her biggest fear when she replied, "my biggest fear is hopelessness and to be killed because of my gender, and my identity as a Hazara." Hazaras are one of the ethnic groups in Afghanistan that have been systematically persecuted and discriminated for centuries. The vast majority follow the Shi'a sect of Islam. According to the World Directory of Minorities and Indigenous Peoples "They were once the largest Afghan ethnic group constituting nearly 67 percent of the total population of the state before the 19th century. More than half were massacred in 1893 when their autonomy was lost as a result of political action."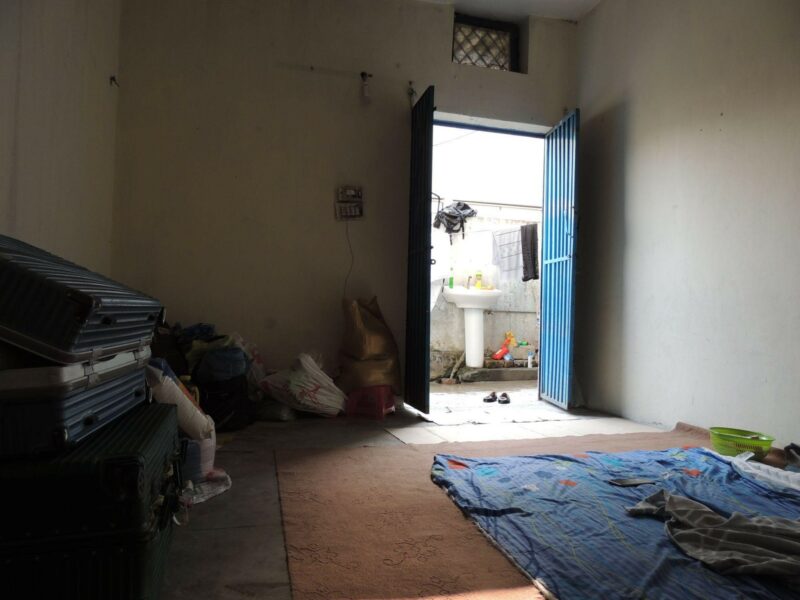 Zohra's shared room with her cousins (Oct 2021, Islamabad)
Even before the fall of Kabul, during the Western-backed government of President Ashraf Ghani, Afghanistan was not a safe and stable place for women and minorities. Girls and women, Sikhs and Hazara and religious minorities, have been among the primary targets because of their gender and religious identities. Now that the Taliban, a misogynist group, rules the country, the chance of survival and living, for women and minorities leans towards zero. Tens of thousands of Afghans are still trying to escape the country after the fall of Kabul and the takeover of government by the Taliban on 15th August but for people like Zohra escaping her own country is like waking up from a nightmare.